We're back with yet another thrilling announcement! Get ready to dive into a fresh set of features that are sure to elevate your Speechki experience. From crafting your own tunes to visually appealing audiograms and even better subscription options – here's what you can expect:
1. Music Generation:
Introducing "My Music"!

Venture over to the sidebar and you'll spot a shiny new tab labeled "My Music". Once inside, your eyes will be drawn to the enticing "Generate Music" button.
Dying to craft a fresh beat? Simply click the button and you'll land on our intuitive music form. This is where your creativity comes into play.
Describe the vibe you're aiming for; perhaps something like 'Lo-fi slow BPM electro chill with organic samples'? Decide on your track's duration, anywhere from a swift 1-second jingle to a full 2-minute masterpiece. Once you're set, hit "Generate Music" and let our system weave its magic.
Patience is key, as it might take a few moments for your auditory art to come to life. Upon returning to "My Music", you'll find a library of all the tracks you've brought to life.
Clicking on any track unfurls a dedicated page, equipped with a sleek player for you to enjoy, download, or flaunt your creation across social media.
2. Your Audio, Visualized!
Get ready to take your content to the next level with a brand-new feature that's sure to catch your eye – Audiograms! We're elated to announce that our "Standard" and "Ultimate" subscription plans now come with the power to transform your audio projects into captivating visual experiences. Here's how it works:
Start by generating a project through the Speechki plugin in ChatGPT or on our user-friendly web interface. Head over to the "My Projects" section and hit the "Create Project" button.
Input or paste the text you want to bring to life, give your project a catchy name, and choose the voice that best resonates with your content. Once you're all set, hit that "Generate audio" button.
Sit back as the magic unfolds – your text is transformed into a pristine audio rendition. The process might take a few seconds to a couple of minutes, depending on the text's length.
Once the audio is ready, you'll be greeted with a player that lets you preview your auditory masterpiece. Simultaneously, the process of crafting the audiogram is set in motion. This step takes a few minutes. Once the file is generated, an "Audiogram" button appears below the player.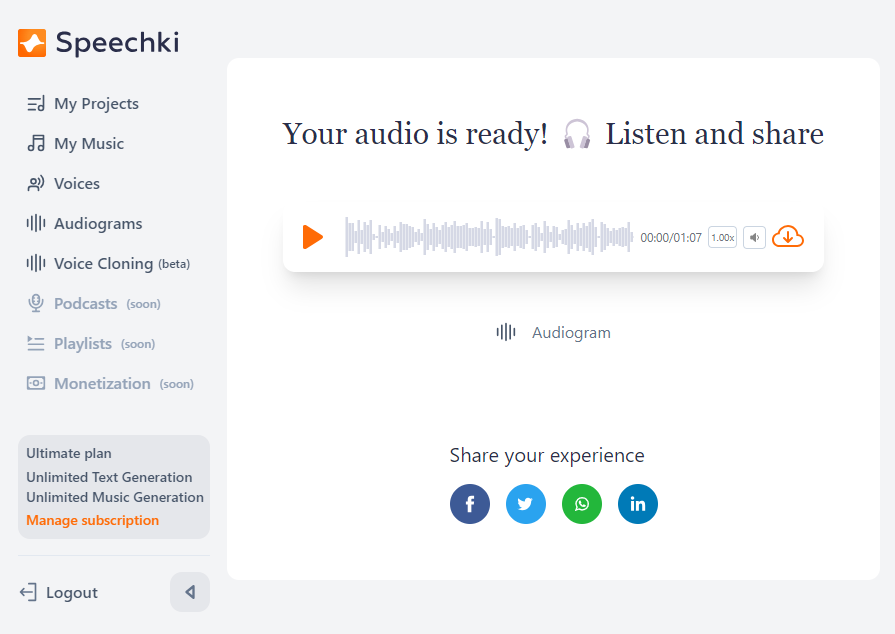 But wait, there's more! Once you've worked your creative magic and generated an audiogram, the journey doesn't end there. After the audiogram-making process has worked its wonders, your creation finds its way to the dedicated "Audiograms" section, conveniently nestled in the sidebar. Click to open the project, revealing the captivating video file.
Download and share across social media or wherever you need to make an impact. Let your audio resonate visually with Speechki's Audiograms. 🎨🔊
3. Enhanced Subscription Options: More Choices, More Savings!
Responding to the feedback of our valued subscribers, we're excited to unveil an expanded range of subscription plans, now including annual options that let you save 20% compared to the monthly rates.
Introducing the "Creator" Plan: For just $8.99 per month ($7.19 with an annual subscription), our new "Creator" plan empowers you to create up to 20 audio projects each month, along with 3 projects featuring music generation.

Upgraded "Standard" Plan: Upgrade to our revamped "Standard" plan, granting you access to 100 audio projects, 10 music generations, and the ability to craft audiograms from your generated audio. Premium voices are also at your fingertips with this plan, all for just $24 per month ($19.20 annually).

Our Ultimate Offering: For those seeking the pinnacle of capabilities, our top-tier plan is priced at $99 per month ($79.20 annually). Dive into limitless audio projects and audiograms, enjoying premium voices, and up to 50 music track generations each month.
Choose the plan that aligns with your needs and creative aspirations. With these new options, you're not just subscribing; you're investing in a richer, more versatile creative experience. Embrace the possibilities today!
If you have a feature request, want to report an issue or bug, or simply have ideas on how we could improve, please let us know through our

Google form

. Together, we can shape the future of text-to-speech technology.
Stay tuned for more updates. The future of Speechki is sounding better and better each day!

Remember, your voice matters. And with Speechki, it can truly be heard. 🚀