Introducing Audiograms — Your Audio, Visualized!
Get ready to take your content to the next level with a brand-new feature that's sure to catch your eye – Audiograms! We're elated to announce that our "Standard" and "Ultimate" subscription plans now come with the power to transform your audio projects into captivating visual experiences. Here's how it works:
Start by generating a project through the Speechki plugin in ChatGPT or on our user-friendly web interface. Head over to the "My Projects" section and hit the "Create Project" button.
Input or paste the text you want to bring to life, give your project a catchy name, and choose the voice that best resonates with your content. Once you're all set, hit that "Generate audio" button.
Sit back as the magic unfolds – your text is transformed into a pristine audio rendition. The process might take a few seconds to a couple of minutes, depending on the text's length.
Once the audio is ready, you'll be greeted with a player that lets you preview your auditory masterpiece. Simultaneously, the process of crafting the audiogram is set in motion. This step takes a few minutes. Once the file is generated, an "Audiogram" button appears below the player.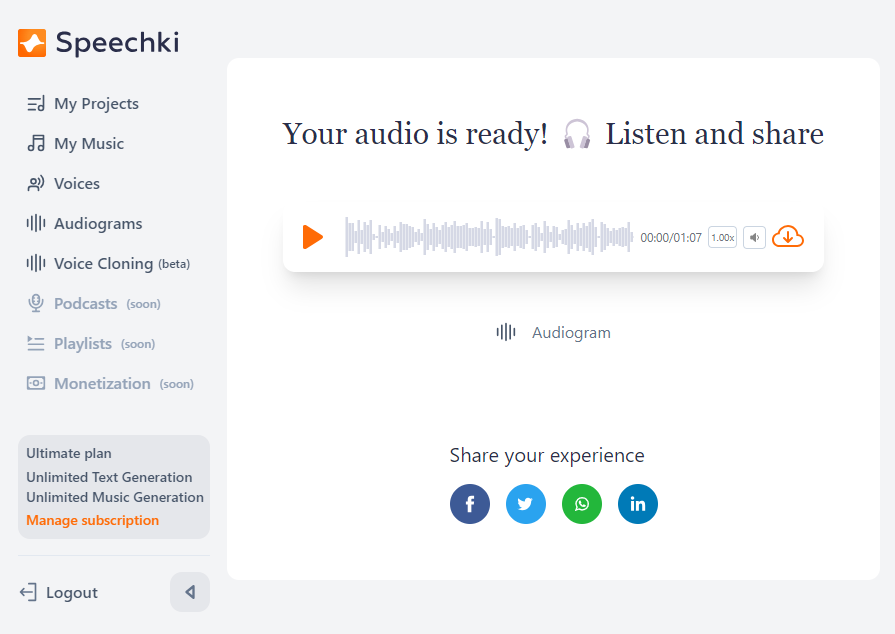 But wait, there's more! Once you've worked your creative magic and generated an audiogram, the journey doesn't end there. After the audiogram-making process has worked its wonders, your creation finds its way to the dedicated "Audiograms" section, conveniently nestled in the sidebar. Click to open the project, revealing the captivating video file.
Download and share across social media or wherever you need to make an impact. Let your audio resonate visually with Speechki's Audiograms. 🎨🔊
If you have a feature request, want to report an issue or bug, or simply have ideas on how we could improve, please let us know through our

Google form

. Together, we can shape the future of text-to-speech technology.
Stay tuned for more updates. The future of Speechki is sounding better and better each day!

Remember, your voice matters. And with Speechki, it can truly be heard. 🚀